Soccer for kids Requires a perfect combination of fun, development, and technical growth.

Soccer for kids should be enjoyable and the rules themselves should provide a platform for development. Kids-play-soccer.com shares the passion and expertise in teaching "the beautiful game" to kids. Coaching brings lasting memories and unexpected challenges. What do you want to know about? We can help! Football or futbol is the most popular and simplest sport in the world. However, as new or volunteer coaches we seem to find a way to change the game with a coach driven approach. Soccer is the opposite.
Soccer for kids (in a team environment) should be:
Fun

Developmental
Engaging
Challenging
Creative
Efficient
Our emphasis is always on development and having fun! Kids-play-soccer.com is our resource site providing a lot of information about teaching kids up to age twelve. We create the stage for an experience that will instill passion and create long term fans. We understand that to grow as a nation soccer for kids needs to be played informally and in a manner that mimics backyard play. Our methods create a format where kids learn and develop faster, better, and play season after season. We hope you take something away from our site providing you with a better foundation to teach the game. Knowing what to teach and the age appropriate milestones will help you coach the correct material and let the game be the teacher and you the facilitator. Soccer is player driven not coach driven. Learn to teach the sport versus coaching it and all will have a blast this season.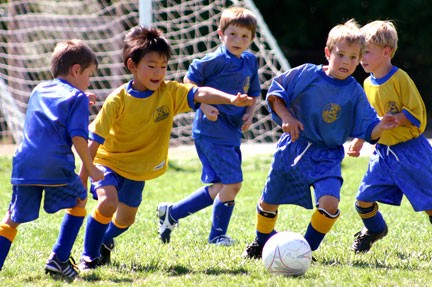 Milestones: If I asked you at what age a child should be walking you would probably give me a pretty good answer. If I asked you to tell me at what age a child should be able to understand and execute passing during a game would you be confident in your answer?
The sport requires the body and nothing else. There is not stick or bat or anything that facilitates control of the ball. Therefore, it is only natural that milestones in skill development are strictly tied to development in body coordination and motor skills.
Contact Us about a specific program question or concern.
Soccer coaching is different from teaching soccer. I have learned over the past decade that to coach you first must teach. Soccer for kids needs to be teacher driven not coach driven.
The basic soccer rules for kids and the best way to learn how to play soccer as well as soccer equipment and the best soccer practice plan.
How to play soccer can be confusing not because of the basic soccer rules but the way soccer should be coached and how the soccer practice plan should be delivered.
The youth soccer equipment your child needs to play soccer. To participate in soccer we recommend the follwing soccer gear.
Have a soccer question? We are experts at coaching soccer and we can help you with anything to do wiith coaching or teaching soccer to kids.
Soccer coaching blog for the seasonal parent volunteer coach and/or fan. Let us help you make this season a fun time for everyone.
An effective soccer practice plan to use as a template. Create your own using this template for all skill development and ages.
Here are our favorite soccer quotes and why. Check them out amd see why we have them as our top quotes for soccer fans, coaches, and players.
Futsal is growing popularity in the U.S. and most still have limited knowledge as to why it is the only sactioned indoor version of soccer and why it is so beneficial to developing players.
Don't forget to order the soccer trophy. Soccer Trophies are as basic as basic soccer rules and youth soccer equipment. They all go together and are expected at the end of the season.
Free soccer drills and the basic soccer rules by a professional development how to play soccer coach.
The best soccer tips to learn how to play soccer or coach basic soccer skills.
Coaching youth soccer is not just about soccer drills for kids or soccer coaching drills. It's much more simpler than you thought. Playing soccer should be the primary objective.
Free soccer field layout by age group to better learn how to play soccer and teach basic soccer skills
The World Cup 2014 will be the ultimate soccer celebration in Brazil. If your a soccer fan the number four is very symbolic because that is how many years you need to suffer until the next world cup.