SUMMER REGISTRATION IS OPEN!
Summer planing is underway. Break out your calendars and get your Just4Kicks soccer dates locked in. Summer has something for everyone from 3 1/2 to 12 years old. Take a look below at all our program offerings. We look forward to seeing your child on the field!

---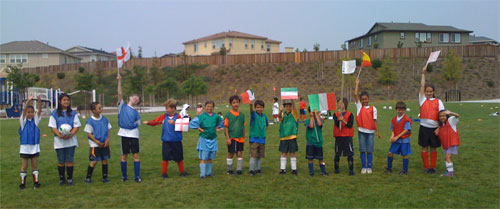 Our Just4Kicks summer recreational camp is designed to introduce and improve on the basic soccer fundamentals. Day 1: Ball Familiarity & Control - Kids will learn quickly that the body is today's theme! And not surprisingly, since in soccer, the body does 90% of the work when kicking and controlling the ball. Day 2: Passing & Space - Here we teach how to pass and to play on the field creating space eliminating bunch ball soccer. Day 3: Shooting & Goalie Introduction- This is our famous shooting day with the introduction of C-P-S (control - place - shoot). We'll also introduce goalie skills and further develop both skills by playing "goalie wars." Day 4: Defense & Turns - Your child will learn the most efficient defense techniques, along with new soccer moves/turns when facing a defender.  Day 5: World Cup Day! - Throughout the week, we'll assess participants' skills to create teams equal in ability. By Thursday, kids will be assigned a team, and their team will choose a nation to represent. Then on Friday, we'll celebrate soccer with a friendly "World Cup" game, complete with national flags and festive colors.
Each participant receives a camp shirt and soccer ball.  To choose your Recreation Camp session, Visit one of the following city links for details.
---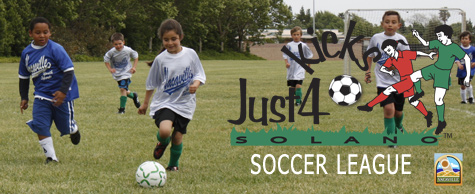 SUMMER COED 5v5 LEAGUE 2012
The 5 vs 5 6-week summer league is back for the second year! This developmental program will provide lots of goal opportunities and touches on the ball. Exposure to a soccer game environment along with skill development, makes the league a perfect way to introduce and/or further develop the fundamentals. Divisions are offered for 7 to 8-year-old, 9 to 10-year-old, and 11 to 12 year old. The 5 vs 5 is action packed with more touches and more goals. Having only 5 per side encourages team play and forces all players to be involved in the game. Positions are informal as everyone helps defend and attack. The first day is orientation where we divide kids into teams of equal skill. They'll get acquainted with 5v5 rules and the field, and then they'll pick a team name. Participation requires City of Vacaville reversible jersey, shin guards and soccer cleats. The league begins July 12th. click below for more details on the program.
---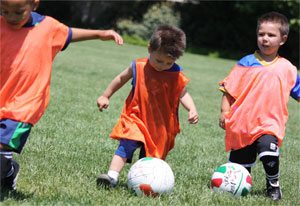 SUMMER MINI SESSIONS 2012
Do you have a crazy, busy summer? Then our 4-week, Jumpstart soccer mini session may be just for you. Your child will be exposed to real soccer through small sided scrimmages while focusing on the fundamentals. The 4-week mini is aimed to give him/her a foundation to further enjoy some recreational soccer in the summer or start league soccer in the fall. Mini sessions are a great way to expose kids to soccer to see if it's is a sport they would enjoy. Every child deserves an opportunity to play soccer or at least try it! With evening or morning offerings in most area cities, you'll be giving them the perfect opportunity to fall in love with this beautiful sport.
---