Spring Registration is Open!
Get out and play! The weather is beautiful and spring will be even better. Don't get stuck on a wait list so register early. All programs are open for registration. We have much to offer with some great new additions and changes. Benicia will see a new Wednesday program. Woodland program will relocate to the new Jack Slaven park. Fairfield Tuesday & Friday classes now offered. Davis spring program now offered in association with Davis AYSO. Vacaville will launch midweek 5v5 development league. This spring put the PLAY back into PLAYing soccer!


---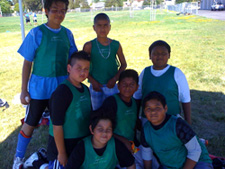 Just4kicks Triumph Soccer Assembly
Soccer is a beautiful sport that offers so much to youth. So many kids play soccer but something strange happens when they reach 10 or so. almost 50% stop playing recreational soccer. In an effort to re-engage kids eight and up Just4Kicks has created an incredible assembly program in an effort to ignite that soccer player in everyone and teach lasting life lessons. Soccer requires four key concepts.

Responsibility - Communication - Teamwork - Creativity

The Assembly program challenges each youth to apply these concepts on the field and we relate it back to school, family, and life! Soccer has something for everyone and the message we deliver in the one hour assembly is impacting. Visit our Triumph page to see how you can bring the Triumph assembly to your school.

---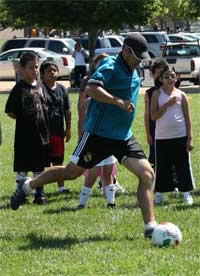 Private Training
Is your child 10 + and thinking of club competitive soccer? Tryouts are usually between Winter and Spring so start training now. Coach Al Arevalo has played for Club teams such as Central Valley United (state champs) and South San Jose in the very competitive Silicon Valley soccer scene. He made varsity team freshman year for Abraham Lincoln High School. Lincoln High jumped to "A" division his sophomore year. He also experienced club level soccer and futsal in Bolivia where is was born. He has over ten years of teaching soccer to youth and training individual talent. His training Methods are high paced focused on touch and conditioning with the ball. He uses TRX for strength and balance and believes soccer trainers need to be able to perform and complete the training session along side the player. Motivation is key and showing energy through performance pushes players to exceed their potential. *Winter Special* 5 one on one sessions for $225 (normally $300). Sessions are 90 minutes long. Visit link below and contact us.

---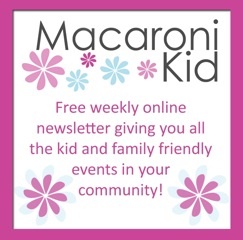 Just4kicks proudly supports Macaroni Kid Vacaville - Fairfield

What is Macaroni Kid?
Macaroni Kid is a free weekly newsletter and website that delivers news on all the kid and family friendly events going on in Vacaville and Fairfield. From movie listings to junior play writing, from ballroom dancing to soccer classes, from sailing classes to origami classes, you can find all the amazing events happening in your own backyard on Macaroni Kid!


Sign Up Today!